Congratulation ! Donjoy domestic & international official website are fully renewed and launched
In March 2020, our company made a new revision and upgrade to www.donjoypump.cn/www.donjoyvalve.com. In February 20201, www.cndonjoy.com/www.donjoypump.com will also be renewed and launched soon! This also indicates that the company's Sino-British dual official website has been upgraded and officially put into use.
The new official website is not only as simple as "changing a face", it has a tall interface vision, adaptive mobile phones and tablets, to meet the habit of new humans, and it also adds multimedia link channels such as WeChat, QQ, Facebook, LinkedIn, and Youtube. , Let you feel a different "new" atmosphere.
In this official website revision, we have made comprehensive adjustments and optimizations to the original columns. The setting logic of the new column is clearer, the website function is more user-friendly, and the page design style is simpler and more beautiful, which will bring you a refreshing feeling on the whole.
The website section mainly includes: website homepage, product center, industry application, technical service, and Donjoy information, which will help you understand Donjoy technology better and faster.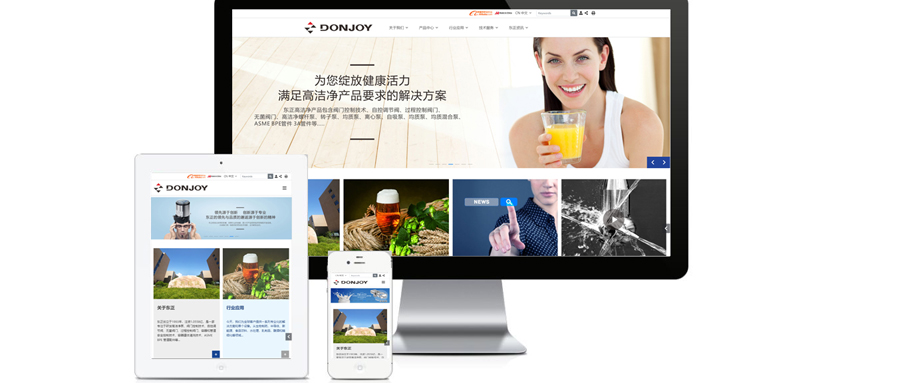 Open the homepage of Donjoy Technology website, you can quickly learn about Donjoy's corporate positioning, product classification and other basic information from the essential overview of the sections about us, product centers, and industry applications.
"Product Center" is classified based on product type, and "Industry Application" is classified based on the industry field where the product is applied. Two different ways of searching for products not only meet the requirements of customers at different levels, but also conform to the company's customer-centric business philosophy. The product introduction fully demonstrated the advantages and characteristics of Donjoy's products, helping users quickly appreciate the product style.
Click on the "Technical Services" section, you can see that we provide you with product catalogs, video animations of related products, and the qualification certifications that the products have passed. These collectively embody Donjoy's advanced concepts and innovative thinking in the fields of high-clean pumps, valve control and aseptic valves, and are the crystallization and precipitation of Donjoy's years of industry experience.
Brand new official website, a new starting point!
Donjoy Technology looks forward to your visit and sincerely hopes to cooperate with friends from all walks of life to help the field of high-clean pumps and valves together for a better future!